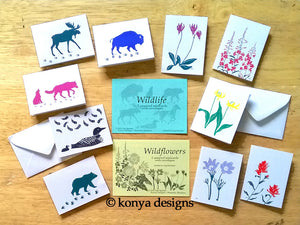 Mini-Card Wildflower or Wildlife Assortment Packs
Package of 5 assorted colorful, original wildflower or wildlife a designs on recycled paper cards. Enclosure sized cards with tiny envelopes.
Options: Wildflower Mini-Card Assortment Pack, Wildlife Mini-Card Assortment Pack
Cards are blank inside.

Artwork was rendered from complex line drawings with beautiful color added later.