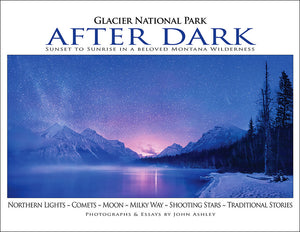 Soft Cover: Comes with free bookmark of Going-to-the-Sun-Road

Where are the best places in Glacier National Park to watch the northern lights? What is the best time of year to admire the Milky Way? When is the next lunar eclipse? How can I touch a meteorite? Where do shooting stars come from? What is the ancient Blackfoot name for the Big Dipper? If sunlight is white then why is the sky blue? What is the "Moon Illusion?" Naturalist John Ashley sets out on a nocturnal quest for answers to these questions and more. The result is a combination guide book, travel journal, historical narrative, photo essay and astronomy primer. Join this journey from sunset to sunrise, and help protect this trail for those who will follow.


Thank you John for this amazing book!!! (I don't personally know him, though I now know pieces of his soul). By far one of the BEST books that I own. Utterly breathtaking photos of the night sky (and more), plus he's a great writer, fun and witty. I find myself at a loss for words to describe just how much I love this book.


Amazon Reviewer (5 out of 5 stars)
Glacier National Park After Dark is an endlessly fascinating visual tour of the night sky, augmented by engaging written commentary. It will appeal to anyone who has ever looked up in wonder at the night sky. In other words, you don't have to love, or even have visited Glacier National Park to admire this book.


Judges comments, 2016 High Plains Book Award (1st place, Science & Medicine)