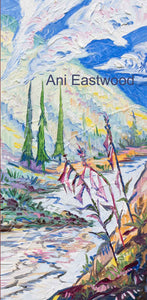 Reproductions Photo'd, Printed and painted by the artist.
9"x12" Archival Giclee Print on 100% cotton smooth paper, not hand painted  
10"x20" & 12"x24" Handpainted Archival Giclees on textured watercolor paper, Signed by the artist.
All paper prints are backed with hardboard and come in a plastic slip for their protection.
All paper prints are standard frame sizes with a white border.  No mat is required.
"Bluebells" Signed and Numbered canvas Gallery Wrap Limited Edition Reproduction, framed in authentic barnwood.  No glass!:  10"x20" : $350 
Original Oil on Birchbox:  6x14"
Please contact Ani Eastwood directly for purchase inquiries.  
AniEastwoodFineArt@yahoo.com