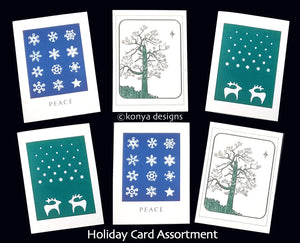 6-Card assortment of Konya Designs Holiday/Winter Blank Cards with envelopes.  (Printed on recycled paper.)
6-Card Pack contains 2 each, of 3 original designs:
"Peace": Snowflakes & Star on dark blue. This card is inspired by a cold, still winter night sky.
"Winter Deer": Scandinavian sweater inspired, Deer & Snow design on green.
"Mountain Christmas Tree": Old survivor, Pondersosa pine tree with star, woodcut inspired design, green on white.