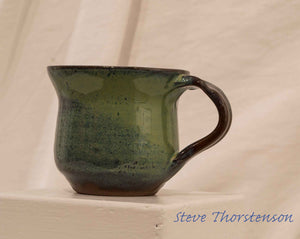 It This will soon become your go to coffee cup
Hi-fire, durable, dish washer safe
Large size for lots of coffee. Has even larger versions in our brick and mortar store or available upon request.
Mug comes with a lavender tea gift
(The picture below depicts exact mug available for sale, however Steve always keeps versions of this same blue mug in stock.  If you are wanting to order a set of this color or this item is listed as out of stock, please contact Steve directly and he will be happy to find you a mug or even a set of them!)
Note: The wonderful nature of this type of glaze is there are variations in each mug.  Colors may vary from piece to piece and have slightly darker or lighter blues.  It is best to enjoy and be surprised by the variety in your particular mug!  All of them are beautiful!